About 15 years ago, when I first saw a facsimile of MS 124 (one of the famous family 13 MSS) I realized that I had in my possession copies of manuscripts written by the same scribe. On this website I have the opportunity to present these findings. To reproduce these facts please give Mr. Gary S. Dykes credit. This page is copyrighted © 2006 by Mr. Gary S. Dykes
Various introductory texts to the study of the Greek NT manuscripts date our three manuscripts over a broad range- from 10th to the 12th centuries. Thus this new information, presented here can remove the 3 century spread in dating any or all of these manuscripts. I would date the three (124, 326 and 1837) as circa A.D. 950- 1000. The earliest of the three seems to be 1837.
As is well known MS 124 is a gospel manuscript. It was written in Calabria (Metzger, Hatch, Ferrar). It is part of a well known family. Minuscules 326 and 1837 are praxapostolos manuscripts, also written by the very same unknown scribe. No colophons were observed in these two MSS (326 and 1837). MS 326 is presently in the Bodleian Library as Lincoln College- Gr. 82. MS 1837 currently lies in Grottaferrata as Bibl. della Badia, A. b. 3.. MS 124 is in the Vienna National Library as Gr. 188.
Some years ago, Bover, in his edition of the Greek New Testament mentioned that there seemed to him to be a group of manuscripts of the Pauline corpus which could be equivalent to the Gospel family 13 group. He preferred the designation of "Caesarean" for this group of Pauline/praxapostolos MSS. He mentioned 1837 as well as MSS., £, 1739 and Von Soden's group Ia3. Bover offered no supporting evidence, just this suggestion.
His (Bover's) suggestion has not received much attention. But, independently, about 10 years ago, I too perceived a group of praxapostolos MSS which would parallel the Ferrar group of the Gospels. However, I would not identify it with Caesarea, nor would £, or 1739 be strong members. Some of Von Soden's Ia3 group are in my group.
But also of interest as concerns our 3 MSS (124, 326, 1837) is that they are by the same scribe, decorated by the same person (which may be the scribe), and each represents a Calabrian text. MS 124 is definitely a part of family 13, I would designate the 326 and 1837 MSS as "Calabrian", a group, not a text-type.
326 is heavily protected by the Library holding it (as concerns copyright) so I can only give a few small sample images from a film I purchased. The MS is in TWO columns (as are all three MSS). Here is a portion of one column: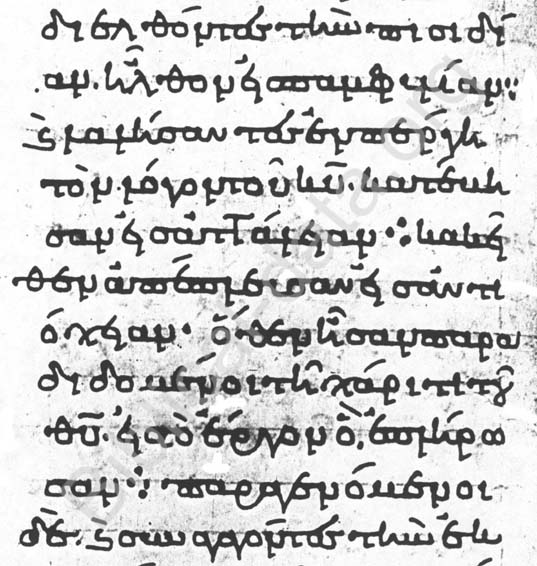 MS 326 sample
Here is a sample of MS 1837: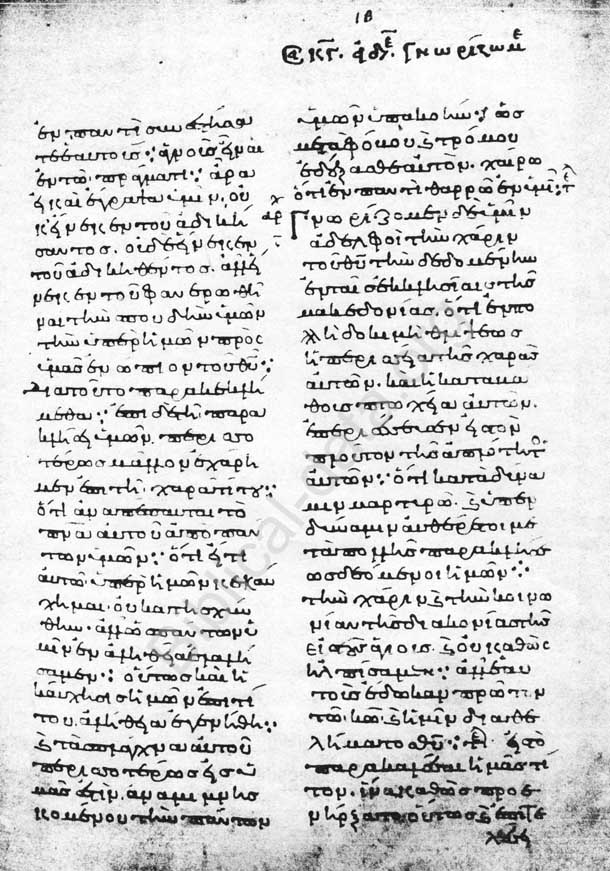 MS 1837
And finally a sample of MS 124: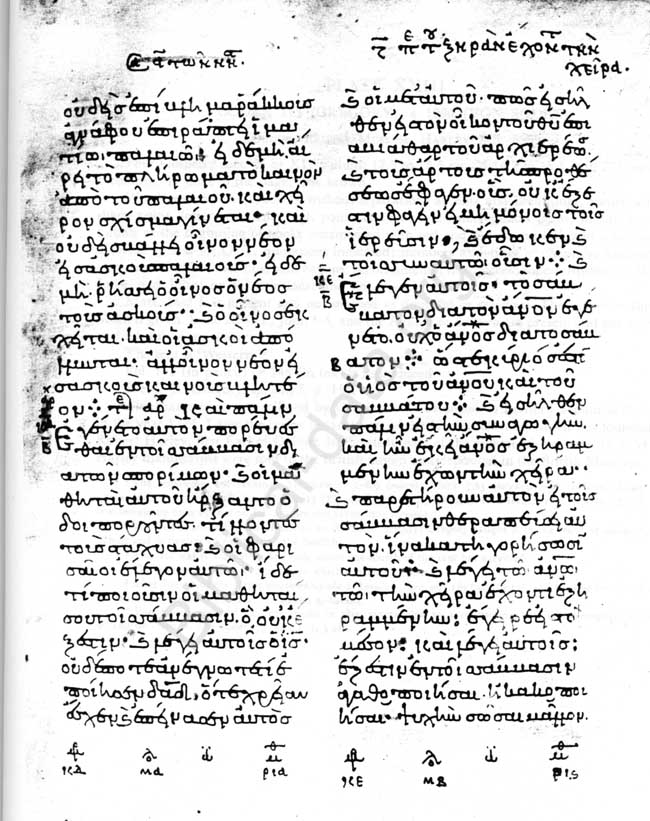 MS 124
Not much detailed analyses is required to validate the fact that all three are written by the same scribe: but here is some basic data.
FIRST, MS 124:
MS 124 - 2 columns, on parchment. Ornamented headpieces, ornamented initial letters. 25 to 28 lines per page. Equipped with basic liturgical apparatuses. Arche/telos in text. Uses a goodly number of uncial letters, uses a goodly number (but not excessive) of ligatures. All breathings are square. Occasional diareses. Occasional double accent over de. Letters are written pendant. Uses a type of punctuation which uses 1, 2, 3, or 4 dots and the interrogation mark is 3 dots with a comma tail. Like 326 and 1837 has similar zoomorphic ornaments. Makes effective use of color. Occasional iota adscript. Letters beginning the first lines of a book are usually color decorated uncials , in the Western/Latin style.
The above image (enlarged) is from folio 54 (per the numbers written at the upper right corners
of the MS) of MS 124, Mark chapter one. An enlarged zoomorphic initial. The similarity with the
zoomorphic ornaments is MSS 326 and 1837 is obvious.
Minuscule 124 is available for viewing at the website --
http://intf.uni-munster.de/vmr/NTVMR/viewer/viewerWolkenkratzer01.php
(one must first register to view the manuscripts)
MS 326 - 2 columns, on parchment. Ornamented headpieces, ornamented initial letters - sample: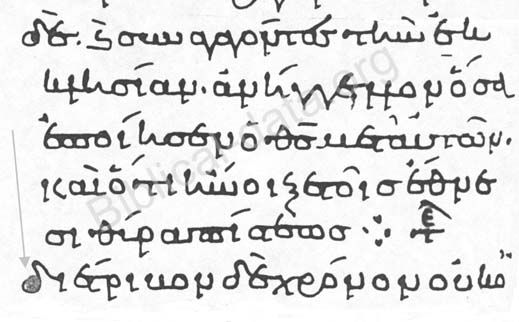 As you can see, besides the enlarged formal decorated initials, this scribe in all 3 MSS will add some color to the initial letter for various purposes. After a arche/telos reading, after quotes, or beginning of new sections/paragraphs. MS 326 has 27 lines per page. Uses the same uncials as 124, as well as the same ligatures. Here is a nice sample ligature: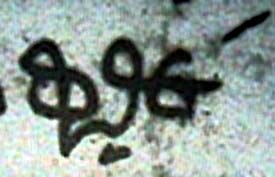 All three MSS display this ligature. A combination of .F Q e. One interesting feature which 326 shares with 1837 is the position of Jude (which Swanson somehow omits!). Quotes are marked in MS 326. Letters are pendant from the line. Diareses are used, occasional double accent seen over de. Manuscript has corrections noted by another reader/viewer, indicated by a series of marks over the position (dots, and or a wavy line, or a combination of dots and a wavy band). Same type of abbreviations as used in 124 and 1837. Same type of punctuation used. See above images for a few samples. Iota adscript is seen in all three MSS, but the usage is not regular.
MS 1837 - Written probably a decade or so earlier than MS 124 and 326. The hand is not quite so neat. It too contains liturgical data (arche/telos) Sabbath readings (as do the other two MSS 124, 326), but unlike 326, 1837 has not a synaxarion , or it is missing. 124, 326 and 1837 have zoomorphic images. Below is a sample from 1837: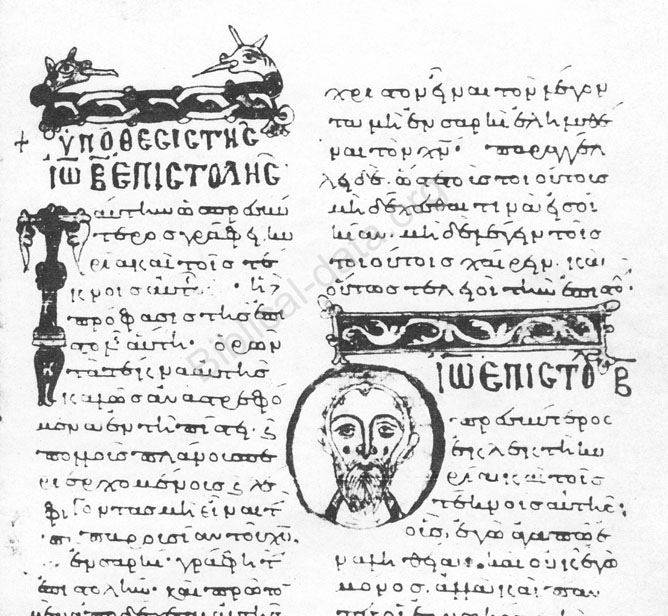 MS 1837
Note too, the medallion type of image of the Apostle John. This style of art is identical to MS 326. Note similar creatures seen in the sample from 326 below: (enlarged).

The scribe of all three manuscripts exercises some flexibility and freedom. He has quite a variety of decorated initial letters, such as for the letter Pi, and he uses a large variety. MS 1837 has 30 lines per page (29 in Acts). As with 326 the gatherings are indicated by the original scribe. Quotes are not marked in MS 1837. Both MSS 326 and 1837 share numerous unique readings seen (as yet) in no other MSS. My research is ongoing as concerns these manuscripts.
Both 326 and 1837 have, following Hebrews, the "Travels of Paul" [Apodhmia tou Agiou Apostolou Paulou]. As mentioned above, 326 also has a complete synaxarion and menologion. The menologian should be studied for further hints as to its (or its exemplar's) provincial character. Interesting is the order of the books in BOTH 326 and 1837, an order I have not yet seen elsewhere!
ACTS
JAMES
JUDE
I PETER
II PETER
I JOHN
II JOHN
III JOHN
ROMANS - 326 has Hypotheses for each epistle, however 1837 has not one for Romans!
I CORINTHIANS
II CORINTHIANS
GALATIANS
EPHESIANS
PHILIPPIANS

COLOSSIANS

I THESSALONIANS
II THESSALONIANS
I TIMOTHY

II TIMOTHY
TITUS
PHILEMON
HEBREWS
The position of Jude is notable. Hebrews is placed last. Neither MS had Revelation. Each MS had identical stichoi readings.
The position of Jude may be an important factor for identifying other MSS of the Praxapostolos from Calabria, or other MSS allied with this SUB-GROUPof 326 and 1837. Both 326 and 1837 have very very similar texts. They are not identical, but from the same, or sister exemplars. I would suggest that both were made in a scriptorium, copied as a lector read, as each exhibits a number of varying aural/phonetic errors. One of these may actually be the companion volume for MS 124 of the Gospels.
Many of the readings of 326 and 1837 suggest that they are part of a group of Calabrian MSS which are not pigeonholed into the usual 3 recension typology. They differ, but should not be labeled Caesarean, perhaps Calabrian. They also differ somewhat from the usual Ia3 MSS of Von Soden's nomenclature, hence 326 and 1837 form a small sub-group of these Calabrian witnesses. Their exemplar probably came up from Sicily. Immigrants to Sicily brought the exemplar from a Greek region - perhaps Northern Africa, Palestine, Syria, or as some have suggested also from the Balkans. These immigrations occurred largely during the Arab and Saracen conquests. Some monks probably immigrated to Sicily during the iconoclastic upheaval as well, These would be iconophiles, and hence no problem with icons in the resulting manuscripts. In fact MS 326 has a very nice 1/2 page painting of one of the apostles.
All images of MS 326 are used via the fair use clause in the copyright law. They are extracted from a film bought from:
Bodleian Library
Oxford University
Lincoln College, Gr. 82
this article copyrighted © 2006, by Mr. Gary S. Dykes.

.... click to return to the NEW DISCOVERIES page