SIZE: 99,551 bytes ---- CONTAINS 11 pages (PDF)
author: Dr. Bruce Griffin
This is the paper delivered to the 1996 SBL meeting in New Orleans, which strongly opposes Kim's early dating of papyrus P46. Griffin shines herein! Dr. Griffin's email address is: bgriffinATavemaria.edu.ni [replace the AT with the @ symbol].
SIZE: about 3 MB - - - CONTAINS 16 pages PDF
author: Mr. Gary S. Dykes
Another exposé of shoddy editing work on a Greek NT papyrus manuscript (P49). I also offer a suggestion for the valid transcription of all Biblical manuscripts, one which is the ONLY solution to the problems associated with transcription and collating MSS. An easy, illustrated read. Beinecke Emmel Welles Brice Jones Harvard Susan A. Stephens P 49 Yale
ADDITIONS to the LIST of EXTANT NT Manuscripts
SIZE: 104,458 bytes ---- CONTAINS 8 pages (PDF)
copied/borrowed from the INTF website.
A copy of the additions to the authorized list of NT Greek manuscripts, list maintained in INTF Münster, Germany. Prepared by Volker Krüger of the INTF. Up to papyrus 127, minuscule 2903, uncial 0320, and lectionary L2445.
The Date of, and Notes Upon Papyrus, P123
SIZE: about 4.9 MB - - - CONTAINS 15 pages, PDF format
author: Mr. Gary S. Dykes
An important correction to the published reconstruction of this NT papyrus (contains I Cor. 14:31-34, and I Cor. 15:3-6). Professor J. D. Thomas made some clear and unmistakable errors. A detailed and educational exposition. Includes several images. Also a reply from Thomas is included, with updates planned. [D. C. Parker, and the edition's editors may also have contributed to the discovered errors].
LINK to color images:
P.Oxy.LXXII 4844 - - from Papyrology at Oxford's "POxy: Oxyrhynchus Online".
To view a larger image of Mr. Dykes' reconstruction click on this thumbnail: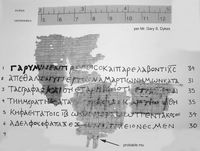 A Re-Examination of Codex Ephraemi Rescriptus
contains 6 images (sharp and printable)
Extracted from: New Testament Studies circa 1958. A portion of R. W. Lyon's corrections to C. Tischendorf's collation/transcription of Codex 04. These 6 images show the essential corrections for the New Testament.
The Doctrine of Inerrancy and the Manuscript Variants
SIZE: 75,747 bytes ---- CONTAINS 10 pages (PDF)
author: Mr. Gary S. Dykes
An appendix from Mr. Dykes' upcoming production on First Corinthians. Instead of avoiding the reality of variants, I suggest believers USE them. Good reading.