The Coptic44.ttf font, as created by Mr. Gary S. Dykes contains approximately 184 glyphs. It is offered as a single download:
Or is to be had in a package of 21 fonts designed for Biblical textual critics - click here to go to the download page for the
FONT PACKAGE (file name is (FONTS_44.zip) contains the new Copt_44a.ttf and its read me file.
The font is crafted of high quality glyphs, you can print a single glyph at poster size, and it will be razor sharp! (The fonts are also hinted). (Note: the new Copt_44a.ttf font is NOT hinted, which can improve its appearance!). The font is embeddable, that is it can be embedded without restriction into any document (word processors, PDF, et al). Though copyrighted, it can be used in any way, any number of times - freely, including commercial uses. I ask that a line of credit be given;
FONT - Coptic44.ttf, created by Mr. Gary S. Dykes
It contains glyphs for writing all dialects of Coptic (Sahidic, Bohairic, Fayumic et al). It also contains glyphs for writing Old Coptic! Thus it is a very unique font! It does not mimic the absurd styles of older printed Coptic fonts (as seen in Well's printed editions of his "Sahidica"). The fonts supplied with my "WELLS PACKAGE", "W_Boh44.ttf" and "W_Sah44.ttf" have matching glyphs (though not nearly as complete as this font is). The fonts truly reflects a neat Coptic hand. Each glyph is readable, not easily confused with other glyphs.
Being readable, the font is a joy to view. it has nice letter spacing so that the words are not cramped together. It does not contain the printed style of upper case glyphs (though a few upper case forms are included). It does contain several alternate forms for the discriminating writer.
Below is a view of the entire font, showing the usual upper keyboard, and the extended ASCII set. Zoom-in to clearly view:
The new Copt_44a.ttf - font has the same layout, but several keys are input differently, which corrects on-screen viewing on some computers, and its print quality. The new Copt_44a.ttf, also is NOT hinted, which also improves its on sceeen appearance, on most monitors. A read me file (PDF) is included in the Wells package, and FONTS_44.zip package.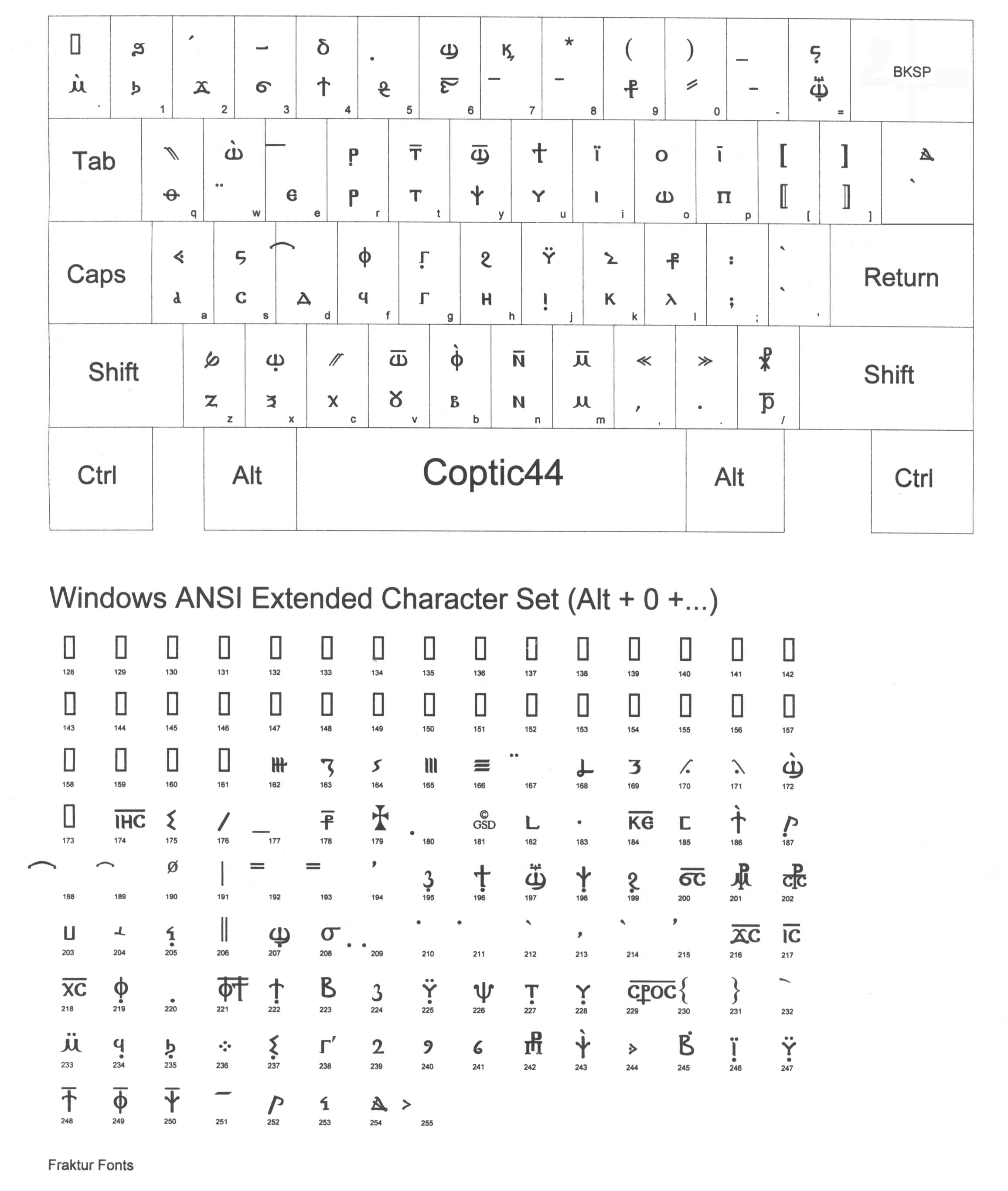 As with all the fonts I create, to input the extended characters, simply hold down your "ALT" key, and then type - on the number KEYPAD, zero and the associated glyph number. For example to input the abbreviation for "cross" which is numnber 229 on the extended keyboard, you would hold down the ALT key, enter 0 + 229, then this character appears in your document: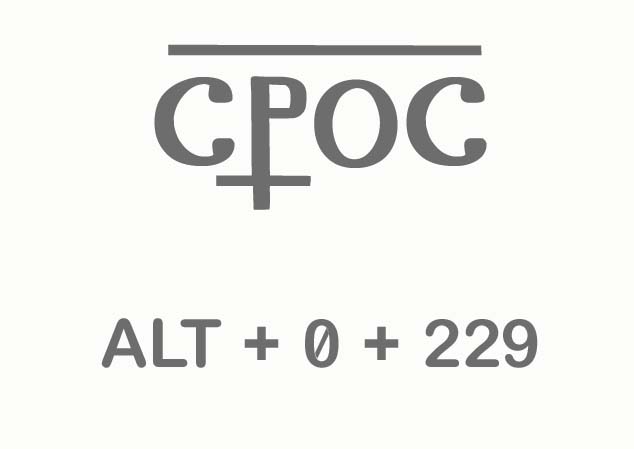 As you can see, the input from this one key produces a complete abbreviation form, complete with the supralinear stroke. When I use my fonts, over time I usually memorize the various input keys, and I always print out the complete set for reference.
Unlike the bulky UNICODE fonts, this True Type font contains special "expert" glyphs. Consequently it is a very valuable font for those who input Coptic text, or who need a complete Coptic font. It is designed to complement my other fonts as to its size and spacing. It works real well with my Greek44 font as well as the other 20 fonts. In the font package are also fonts for showing nearly ANY type of apparatus marks or symbols. Below are a few more samples from this Coptic44.ttf font.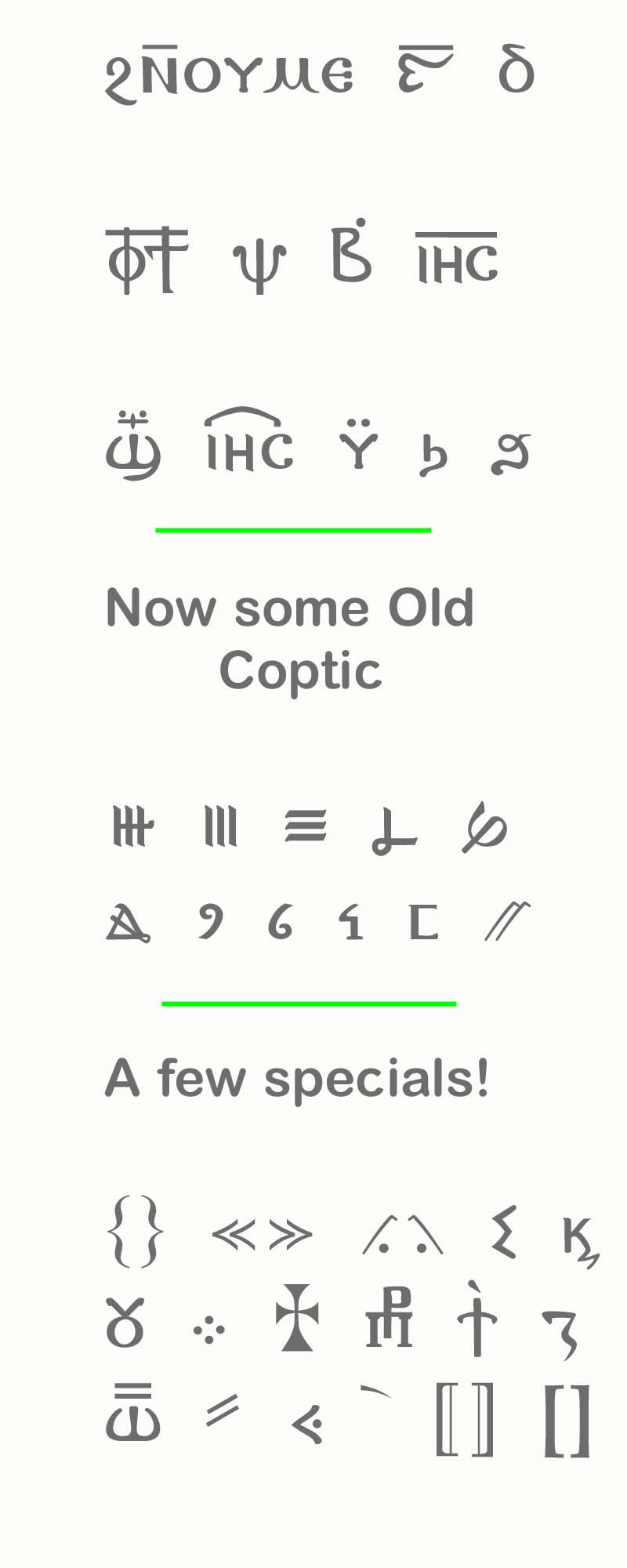 The few samples from the above may help you realize the value of such a font! Many "slings", underdots, underlines, and punctuation marks are included. I enjoyed crafting this exclusive font, may you enjoy using it. It may not be disassembled, sold or rented or leased. To download a printable image of the full keyboard, click here:
COPTIC KEYBOARD it is about a quarter of 1 megabyte in size. The new Copt_44a.ttf keyboard matches this one from Coptic44.ttf, but several characters are input differently.

Bohairic Dialect
This language variety of Coptic was used in Northern Egypt, particularly in the area of the Delta. Unfortunately, there are very few texts preserved in Bohairic from the earliest times of Coptic literary production (4th to 6th century). They show peculiar features shared with other dialects like Mesokemic and Fayyumic (P. Mich. Inv. 5421). The bulk of the texts in Bohairic dates not earlier than the 10th century. Bohairic is the only Coptic dialect used in Egypt from the Middle Ages onwards, and it is still used today as the liturgical language of the Coptic church.

P. Mich. Inv. 926 Two papyrus folios, 3 verso and 2 recto, of an early Bohairic manuscript codex. They contain a syllabary, that is, an instructional tool consisting of consonant-vowel combinations arranged in alphabetic order. Originally, the codex probably consisted of four sheets (8 folios), of which folios 1 and 8, 3 and 6, and 4 and 5 are joined. Apart from the syllabary, folios 5 and 6 also contain the beginning of Paul's Epistle to the Romans and the first verse of the Book of Job. Theadelphia, western Fayyum. ca. 4th century. Papyrus; folio 2: 26.5 x 16.5; folio 3: 27 x 17.5 cm.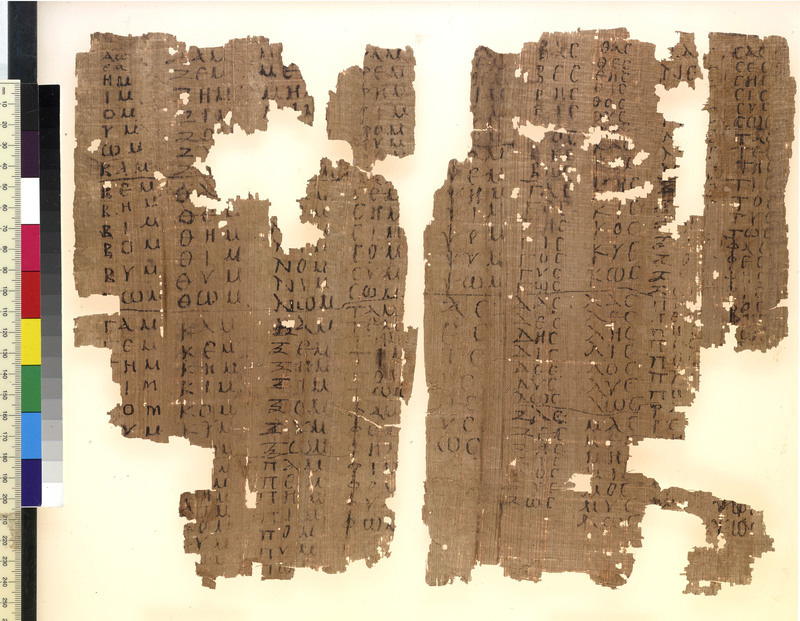 Apart from the syllabary, folios 5 and 6 also contain the beginning of Paul's Epistle to the Romans and the first verse of the Book of Job. Theadelphia, western Fayyum. ca. 4th century. Papyrus; folio 2: 26.5 x 16.5; folio 3: 27 x 17.5 cm.

IMAGE borrowed from
https://apps.lib.umich.edu/online-exhibits/exhibits/show/coptic-manuscripts/bohairic-dialect