ONE OF CHARLES C. RYRIE's DECEPTIONS
EXPOSED
In Dr. Ryrie's revised edition of Dispensationalism, [copyright 1995, Moody Press]
on pages 205 and 206 we find the following statements:
Note the above highlighted portion, it contains a quote from the book,
A DISPENSATIONAL THEOLOGY, by Charles F. Baker [Grace Bible
Publications, 2d ed. 1971; page 502]. Dr. Ryrie follows the quote with;
"...however, he insists that it [i.e. the preposition en] cannot be translated the
same way in all instances, thus proving two baptisms."
What Dr. Ryrie does not share is the full text and proof, a very good proof
that Ryrie could not deal with, so Ryrie did not mention the powerful facts
opposing his partial and misrepresentative "quote". Below is more of the
context of the portion quoted, in most of its context, page 502 of Baker's
classic work on a true Dispensationalism, [pages 503 and 504 follow]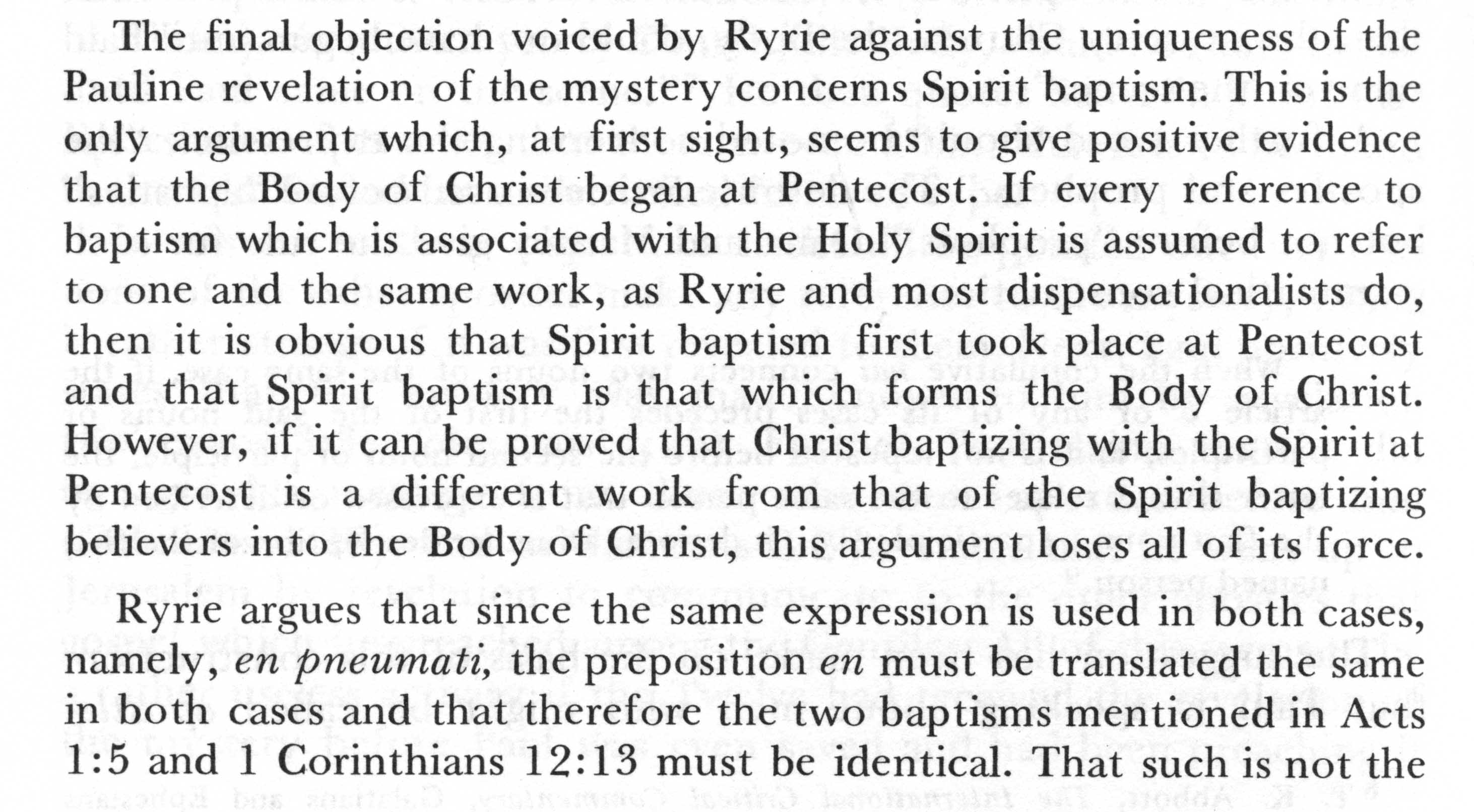 Note that Baker indicates that "...if it can be proved". Ryrie cannot and does not
prove that the preposition MUST be translated the same in such situations.
In fact, Baker, then on pages 503 and 504 of A DISPENSATIONAL THEOLOGY,
puts forth an essay by the then living Vernon Schutz.
Below is Schutz's reply to the
empty claims of Dr. Ryrie. As I understand it, Ryrie never did or could reply
to Schutz. Schutz's reply is short, so slowly read it all, and concentrate, it is
utter simplicity, very clear.
Dr. Ryrie concedes that en can sometimes mean "with," "by," or "in," but he asks us to face the "possibility that in both instances it does mean the same and refers to the same baptism." Since Dr. Ryrie has coupled two ideas together let us examine them one at a time. His plea to us rests partially on the basis that we translate en "consistently" in both cases since "it is used in exactly the same phrase with the Spirit." But we do not always translate en the same way simply because it is used in the same phrase with the same noun. For instance, would you always translate the preposition en when used with the noun heaven "IN heaven?" Would you translate Matthew 5:34, "Swear not at all; neither IN heaven," or "Swear not at all; neither BY heaven?" Does Christ tell us not to swear IN heaven? How much sense does that make? Obviously we must translate en "BY" here.

Now let's look at Matthew 5:45; 6:9 and 22:30. Would Dr. Ryrie suggest that we should "consistently" translate en "by" since it is used in exactly the same phrase with the word "heaven?" How much sense does it make to translate en "BY" in these passages? "Your Father which is BY heaven?" "Our Father which art BY heaven?" "But are as the angels BY heaven?" It is best to change the word BY in these passages to IN. The point is, you must not always translate en the same way in all cases even when used with the same noun. It is the sense of the passage that determines whether it should be IN heaven or BY heaven, and it is the sense of the passage and context that determines whether it should be IN the Spirit or BY the Spirit.

It is important to see that we do not actually build our position on the preposition itself, even though at first glance it may seem as though we do. We depend more on the sense of the passage than does Dr. Ryrie. Dr. Ryrie, however, keeps focusing our attention on the translation of the preposition. He would like the Greek en translated "IN" the Spirit in both cases. As a result of this he carefully restricts himself to using only Acts 1:5 with 1 Corinthians 12:13. The promise Christ speaks of in Acts 1:5 is recorded in four other places. They are Matthew 3:11; Mark 1:8; Luke 3:16; and John 1:33. Dr. Ryrie does not mention or list these other passages. There is good reason for this. It will be noted in the Greek texts that God does not find the Greek preposition en so important, for, although it appears before the words "water" and "Holy Spirit" in John 1:33 and Matthew 3:11, in Luke's account it only appears before the words "Holy Spirit" but it does not appear before "water," and in Mark's account the preposition does not appear at all. This shows that the true sense of these passages is not really dependent on the preposition. To demonstrate this more graphically, translate Matthew 3:11 as either "with," or "by," or "in." Take your choice. It is still evident who the baptizing agents are, even though one preposition may serve better than another one.

"I (John) indeed baptize you with/by/in water.. .; but He (Christ) shall baptize you with/by/in the Holy Spirit."

Changing the prepositions does not destroy the obvious sense of the [i.e. of THIS] passage. The argument does not really rest on one little preposition as Dr. Ryrie would have you believe. It is clear that John is the baptizing agent. It is equally clear, because of the parallelism, that Christ is the baptizing agent. Since it is not possible to make the water the baptizer in this passage, neither is it possible to make the Spirit the baptizer. Christ was the agent baptizing on the day of Pentecost.

from TRUTH magazine, 1969, Vol. XIX, No. 3, page 57. Titled: "An Answer to an Analysis of Our Position". By the late pastor Vernon A. Schutz. [profiled on this website on the PEOPLES/PLACES link].
San Francisco 49ers Brandish Leather Belt,Cutter & Buck Pittsburgh Steelers Women's Offside Overknit Three-Quarter Sleeve Sweatshirt - Gray Kansas City Chiefs Jerseys Cheap.Men's Detroit Lions '47 Brand Black Franchise Legacy Fitted Hat,Kansas City Chiefs Mirror With Color Letters License Plate Frame -,Youth Green Bay Packers Jordy Nelson Nike White Game Jersey Kansas City Chiefs 2016 Jerseys Cheap For Sale.Women's Arizona Cardinals Cardinal Chevron Stripes Ankle Socks,Youth Denver Broncos Navy Blue Fading Stacker Long Sleeve T-Shirt.Preschool Green Bay Packers Aaron Rodgers Nike Green Game Jersey,Women's Denver Broncos Peyton Manning Majestic Orange Draft Him IV T-Shirt Kansas City Chiefs Jerseys Cheap Price.Mens Baltimore Ravens Nike Purple Faster T-Shirt,Infant Seattle Seahawks '47 Brand College Navy Spike-O-Saurus Knit Beanie,Mens Indianapolis Colts '47 Brand Royal Blue Cross Check Crew Sweatshirt.Atlanta Falcons Flair Hair Knit Hat,Men's Denver Broncos Nike Navy Empower Knit Full Zip Jacket Cheap Kansas City Chiefs Jerseys NFL.Women's Arizona Cardinals Design Your Own Short Sleeve Fitted T-Shirt,Denver Broncos High-Definition Magnet.Women's New England Patriots 5th & Ocean by New Era Navy Blue Missy Big Logo Tri-Blend V-Neck T-Shirt,Cincinnati Bengals 3D Foam D-Fence Sign - Orange
Thus Vernon Schutz makes his case. A simple one, it is. He does not delve deeply into
grammatical categories (such as instrument/agency, patient, sphere et al)
but does he need to?
His use of "sense" implies common sense, as well as a mature
grammatical sense.
In I Corinthians 12:13, the SPIRIT is the baptizing agent, He - THE SPIRIT- puts
each elected person INTO the body of Christ [with no water involved!].
In Acts 1:5, we know that it
was Jesus Christ Who put the Spirit in them - Acts 2:4
(they were filled - aorist passive), and John 1:33, Jesus baptizes
WITH the Holy Spirit; Mark 1:8 and others! Usually kingdom signs accompanied
these types of Acts/Pentecostal baptisms. There are numerous
other baptisms in the Bible, contray to popular Baptist shillings.
© copyright 2006, by Mr. Gary S. Dykes
---

click to return to THEOLOGICAL ESSAYS main page